The mysterious disappearance of Aidan S.: (as told to his brother)
(Book)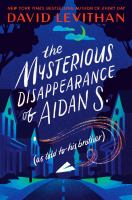 Published:
New York, NY : Alfred A. Knopf, am imprint of Random House Children's Books, [2021].
Physical Desc:
215 pages; 22 cm.
Accelerated Reader:
IL: MG - BL: 4.3 - AR Pts: 6
Status:

1 copy on order.
Orange/Case Juvenile Fiction Book
j Fiction Levithan [Tween]